12/31/2020
Goodbye 2020 and happy 2021!
A new chapter is about to be added to this long story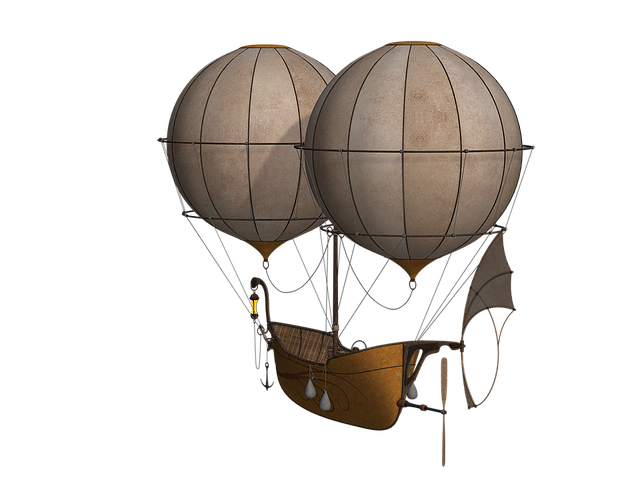 Best wishes to everyone, especially prog-lovers.
Despite everything, it has been a year of good music.
Perhaps because the lockdown offered one more chance to shut down in one's studio and focus on the most ambitious musical projects.
For instance,my friends of Hydra, with whom I spent several musical evenings in the early 90s, took the opportunity to meet again and just came out with the album "La balena e la luna".
Soon I will submit you what I did.
See you soon!
25/04/2020 Lucillo & Giada, 40 years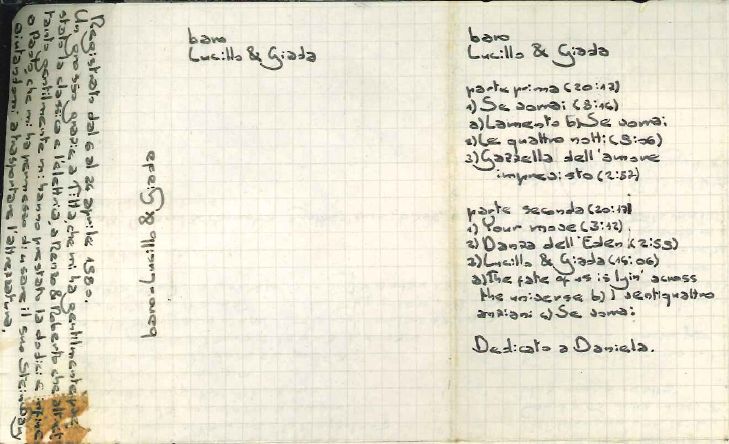 On April 25, 1980, after a few months of composition and recording with rudimental devices, I had that cassette ready.
New songs for La Sintesi and a gift for Daniela, for an unlikely 500-day celebration of being together.
Here
I will tell you about that day and
here
you can read Al Sentenza's recent impressions after listening to that story in music.
A heartfelt thanks to Gianni Della Cioppa, Andromeda Relix and Al Sentenza for having enhanced this work in this way.
Born for this strange celebration, left in the incubator for almost 40 years ... at some point it seems to me that it really wanted "not to be forgotten" and asked me to take it out of the drawer.
16/01/2020 Happy birthday!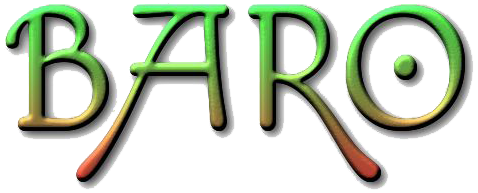 First candle for Lucillo & Giada and Topic Würlenio.

Their publication allowed me to measure myself with the artistic reality of Prog. Receiving many confirmations, I have to say!

Among the most particular I choose this one by Francesco "Yggdrasill" Fallico on Italia di metallo:
"This work revolves around two fundamental concepts, waiting and meeting; with all that can arise from them. The more you go into listening, the more you remain displaced, sometimes stunned; but it is a stunning that I haven't fell in for many years; a daze from which you don't want to recover, even if you have the possibility.
Baro has succeeded in his aim, as far as I'm concerned!"

I'm at work to keep this story going on.
I thank you all.
04/01/2020 Loud and Proud Writers Poll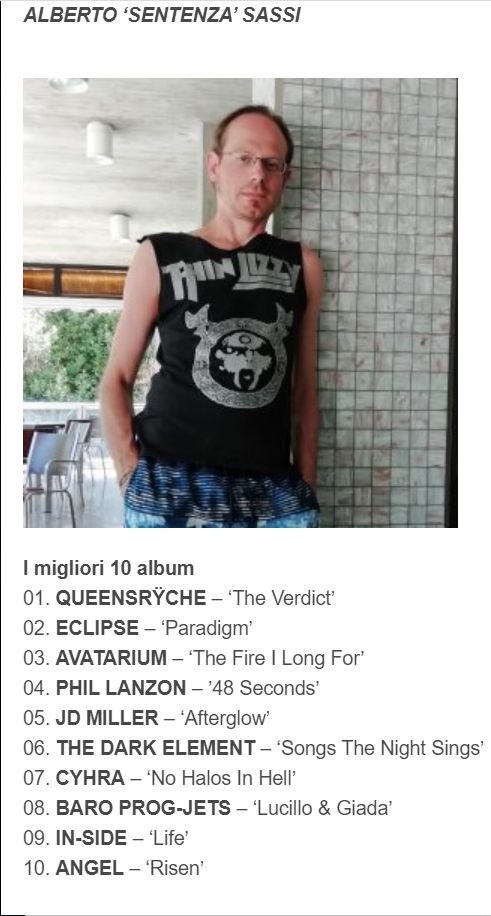 Good morning and good 2020 from Baro prog-jets!
An important year that I will honor, God willing, with a "new" album.
In the meantime I thank Loud and Proud and especially Al "Sentenza" Sassi for considering me in the Writer's poll at the end of 2019.
You can find me in 8th position.

Loud and Proud Writers Poll 2019

Let's rock!
10/07/2019 Luca Sguazzardo on L'Arena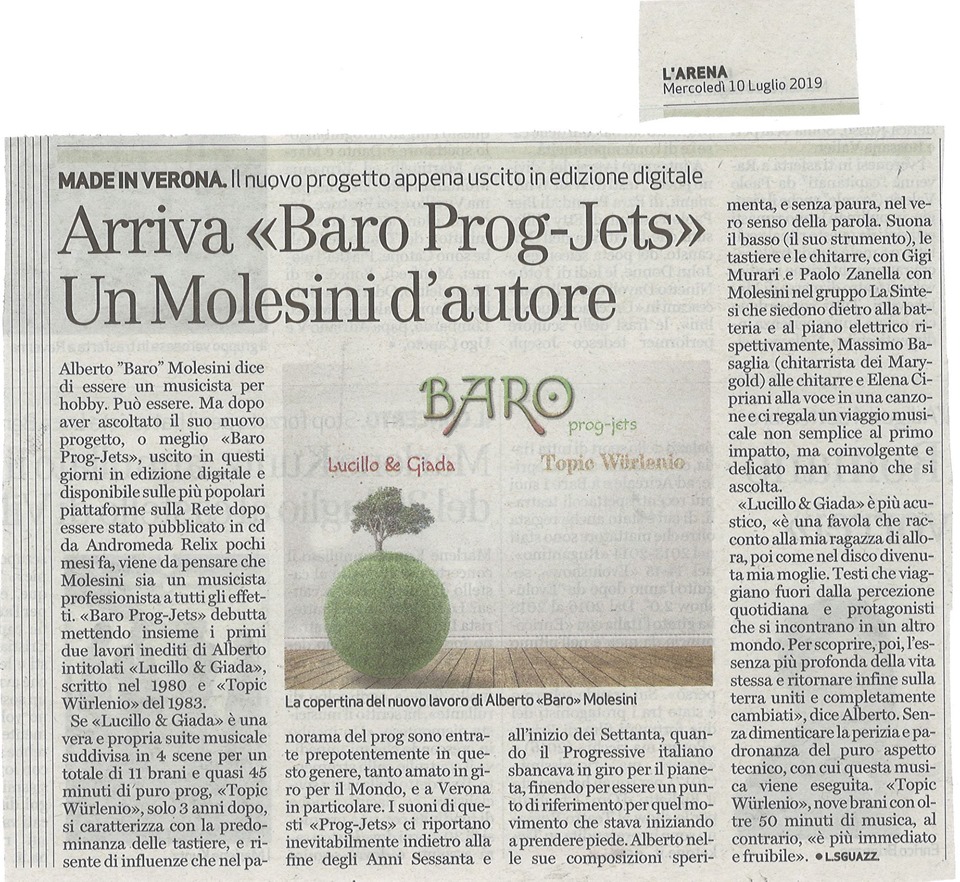 An excerpt:
The sounds of these "Prog-Jets" inevitably bring us back to the late 1960s-early Seventies, when the Italian Progressive dug around the planet, ending up being a point of reference for that movement that was starting to take hold. Alberto in his compositions experiments, and without fear, in the true sense of the word.
01/07/2019 Baro in digital stores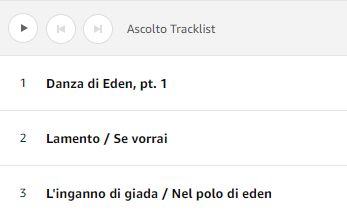 From now on
Spotify
Google Play
itunes / Apple Music
Tidal
Amazon Music
Deezer
Max Salari: first review about Lucillo & Giada-Topic Würlenio
24/02/2019
Let's tell Gianni dC: If you love prog rock, in all of its forms, here you will find something to satisfy you. The golden carriage of the reviews by Baro prog-jets and his double album "Lucillo & Giada - Topic Würlenio" is starting
NON SOLOPROGROCK.BLOGSPOT.COM
Lucillo & Giada/Topic Würlenio out now!
16/01/2019
It's official! The casket containing the first two Baro Prog-jets has finally been released today by Andromeda Relix. One of the most late musical debuts in music history. Read more
Lucillo & Giada/Topic Würlenio teaser
05/01/2019
Some more details a few days before the release. It's difficult in a few minutes to outline a character, a story of many years of music and the essential features of two records. I've tried and hope to be recognizable. Good vision!
Gianni della Cioppa - Andromeda Relix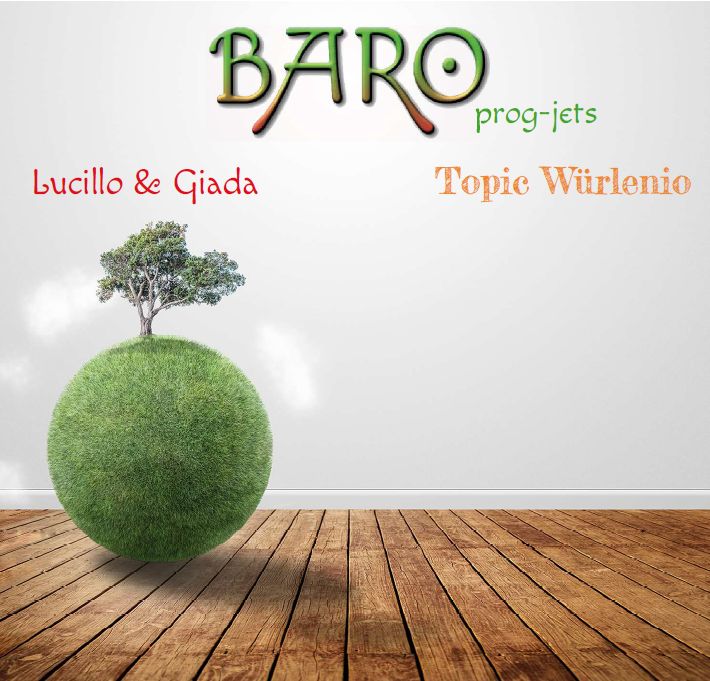 19/12/2018
Andromeda Relix is ​​proud to announce the publication of the first two albums by Alberto Molesini, in art Baro, bassist singer and multi-instrumentalist in the Verona area who played in La Sintesi and in Marygold.

The two so-called prog-jets, of which you see the preview cover, from the bizarre titles "Lucillo & Giada" and "Topic Würlenio", contain compositions dating back to the early years 80, let it rest but aged well also thanks to a production that has blended vintage elements and new technologies.

"Lucillo & Giada" is a single song of 44' theatrically split into 4 scenes. Able to satisfy classic prog fans but littered with original ideas for those who love stylistic deviations, its listening requires patience in identifying the interweaving of the themes but worths the effort.

The next "Topic Würlenio", conceived in full new wave era, is affected by these influences but it's definitely prog. It is not a concept album but the wide-ranging songs outline a coherent path between existential, fantapolitic and utopic themes.

Distributed by GT music the box will be available from January 15th and to follow on digital platforms.
Come out of the closet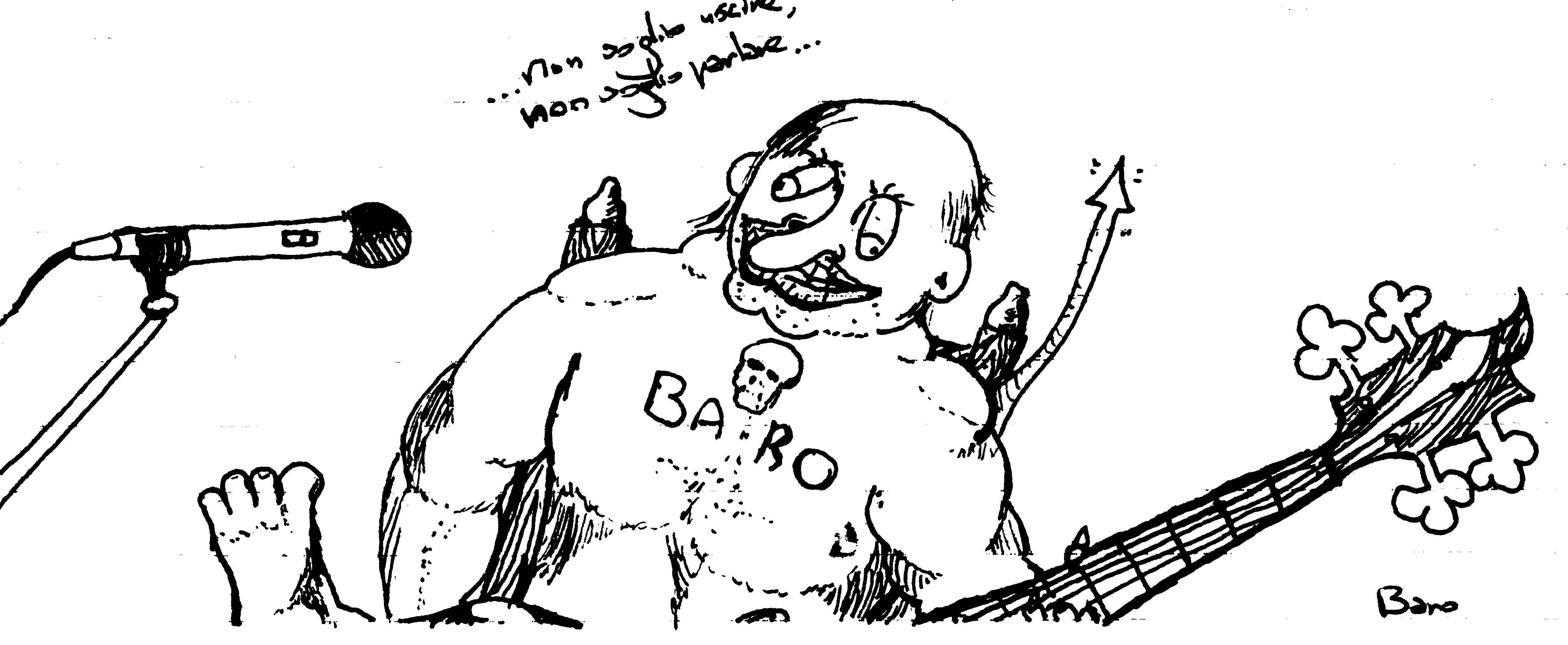 05/12/2018
I've written a bunch of songs from 1978 to 1987 and then from 1999 to nowadays. In the first phase to be played live by the band "La Sintesi", then at the restart - no longer having the conditioning of live performances - I really wrote for myself, without compromise.
This mature stage has produced music for two more albums.

But it can not be enough to write for oneself. It's time to come out of the closet, no matter how this turns out.
I will proceed with order, putting together the two albums of my youthful phase. They will come out together, in a double pack, Lucillo & Giada and Topic Würlenio ... with Andromeda Relix in January 2019!